Voordat ik ga beginnen aan de uitleg content schrijven, wil ik eerst antwoord geven op de vraag wat content is en waarom je content zou moeten schrijven.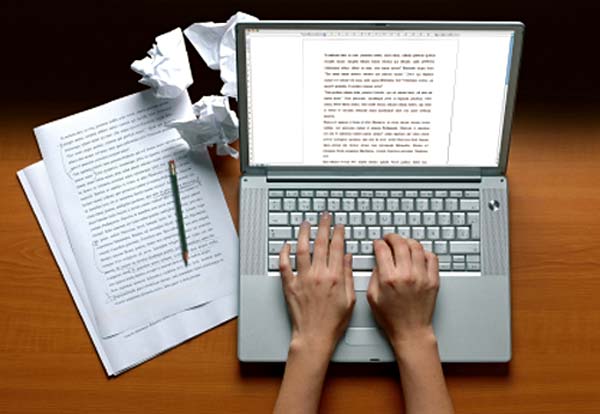 Wat is content?
Content is de verzamelnaam van tekst, afbeeldingen en audiovisuele fragmenten. Dit vormt samen een productpagina, nieuwsartikel of blogbericht op je website.
Waarom content schrijven?
Er zijn twee redenen om regelmatig nieuwe content te schrijven voor je website: 1. het zorgt voor terugkerend bezoek en 2. je website wordt steeds beter gevonden.
1. Terugkerend bezoek
Een website die maandenlang niet verandert nodigt niet uit om regelmatig te bezoeken. De content is immers hetzelfde. Bezoekers vinden er niets nieuws. Om er voor te zorgen dat ze wel terugkeren, schrijf je regelmatig nieuwe content. Content dat past bij de inhoud van je website en aansluit bij de interesse van je doelgroep.
2. Beter vindbaar in Google
Een extra voordeel is dat zoekmachines ook nieuwe content waarderen. Door steeds nieuwe content toe te voegen aan je website, wordt deze als actief beschouwd. Een actieve website wordt nu eenmaal beter gewaardeerd dan inactieve websites.
Tot slot zorgt nieuwe content dat je op steeds meer woorden wordt gevonden. Je wordt dus breder vindbaar en dat levert meer kwalitatief bezoek op vanuit zoekmachines.
Betere content schrijven met deze tips
Tip 1: Wekelijks nieuwe content schrijven als leadgenerator
Verwacht niet dat content direct leidt tot verkopen. Het valt natuurlijk niet uit te sluiten, maar de kans is klein. Waar content wel goed voor is, is als leadgenerator. Vul je website wekelijks aan met een interessant artikel voor jouw doelgroep en je zal uiteindelijk merken dat geïnteresseerden terugkeren naar je website.
Laat bezoekers inschrijven op je nieuwsbrief
Je kunt dit extra stimuleren door door je bezoekers te laten inschrijven op je nieuwsbrief. Om de drempel te verlagen geef je ze bij inschrijving iets extra's. Bijvoorbeeld: een e-book of een korting. De kans dat je uit deze groep uiteindelijk een klant haalt is zeer aannemelijk.
Tip 2: Optimaliseer je content voor zoekmachines
Maak je content niet alleen interessant voor je lezers, maar ook voor zoekmachines. Zoekmachines zorgen nog steeds voor een groot deel voor nieuwe bezoekers. Door je content te optimaliseren vergroot je de kans dat er meer potentieel naar jouw website stroomt.
Voer een onderzoek uit naar je meest waardevolle zoekwoorden en pas de content van je website hierop aan. Proseo heeft de kennis om dit snel en betrouwbaar uit te voeren.
Tip 3: Laat je content delen via social media
Het (laten) delen van je content is natuurlijk niet een heel verrassende tip. Maar in de praktijk blijkt dat weinig MKB bedrijven ook daadwerkelijk actief bezig zijn met social media. Dat is zonde want door interessante berichten te plaatsen op o.a. Twitter en LinkedIn bereik je een groot publiek.
Voeg een afbeelding toe aan je post
Om extra op te vallen voeg je een infographic of afbeelding toe. Hierdoor val je extra op en vergroot je de kans dat jouw bericht wordt gedeeld. Steeds vaker zie je dat er gebruik gemaakt wordt van Graphic Quotes. Dit zijn kleine afbeeldingen bij je bericht met daarop een korte aansprekende tekst. Gebruik Adobe Post om Graphic Quotes te maken. De onderstaande video demonstreert hoe je dat doet.
tip 4: Vergeet video niet
Video is booming. Het wordt steeds vaker gebruikt om content op een overtuigende manier te publiceren en te delen. Vul je content video's of vlogs (video blog). Teksten, afbeeldingen en video's versterken elkaar.
Heb je eenmaal een gave video die je publiceert op YouTube of Vimeo, dan kan je tegenwoordig gebruik maken van promoters. Dat zijn vloggers met een groot publiek, die jouw video willen promoten. Hiervoor bestaan inmiddels al diensten als VidRocket.
Zo zie je maar. Met content schrijven weet je de doelgroep te interesseren en wordt je beter vindbaar in de zoekmachines.